We educate you on the canine signals and triggers that can help save your employees lives!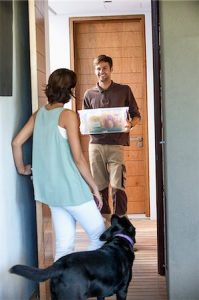 Some dogs are more dominate than others, while others may be submissive. Its hard to know unless you learn to read the canine signals.
Is there a song or smell that triggers a certain memory that brings you back to a place in time?
These triggers can also turn a submissive dog into a very violent one!
Some employees convince themselves that all dogs are good and love whomever they meet, these individuals are in for a hard time. They go through life convinced a dog is only aggressive because it was abused by someone. While it could be true for the very few, many can have triggers for the first time. This attitude will be a workman's comp injury waiting to happen.
Others in the field with several years of experience may have learned the canine signals, but unfortunately, they learned the HARD way!
You are making it far more dangerous if you come into the field humanizing dogs. Owners can also contribute to the dangerous problems. Their unawareness to recognize a problem dog, has resulted in severe injuries and hospitalization of many field employees.
The last thing you may hear is "Don't worry, he doesn't bite" this is right before he sets site on your Jugular vein!
www.bulliray.com
Mitzi Robinson – Author / Subject Matter Expert