By Andrew Caplan Posted Apr 4, 2019 at 8:01 PM Updated Apr 4, 2019
Gainesville FL  Alachua County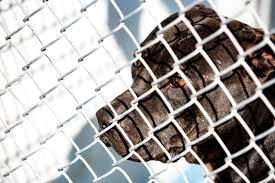 What is unique about this latest few months is the just the incredibly dramatic and tragic nature of some of these reports," said county spokesman Mark Sexton. A recent string of violent dog attacks in Alachua County has some people feeling a bit uneasy.
Most of the attacks were caused by dogs that escaped an owner's property. At Thursday's city meeting, commissioners brought up the issue due to concern of what appears to be an increase in deadly attacks. "It's happening across our city," Commissioner Harvey Ward said. "It's not any one neighborhood that it's coming from, though I will say Northwood Pines has had some very specific problems that tend to go back to the same couple of homes and that's a concern for me." Commissioners discussed changes that are ongoing across the street from City Hall at the Alachua County Administration building. The city has contracted the county to handle all animal service complaints and concerns, though Gainesville police are often called out, too. "We've made it crystal clear, and we're working closely with law enforcement, that there's never a time when we're off," Alachua County spokesman Mark Sexton said. "Animal control will respond 24/7 to dangerous dog attacks or animals out-of-control situations." Sexton said Thursday that dog attacks, in general, are common. In fact, he added, the county receives reports of dog bites almost every day. City discusses increased deadly dog attacks "What is unique about this latest few months is just the incredibly dramatic and tragic nature of some of these reports," Sexton said. "They've been horrific, some of them." Sexton said it's a problem if people can't control their dogs while on leashes or in their yard.  The county has also added more animal service officers and investigators and has increased its outreach efforts to inform the public of the ongoing problem. Barbara Howe, a Stephen Foster neighborhood resident, said Thursday that she was previously attacked by a dog that kept escaping the neighbors yard and fears checking her mail daily. Howe said she has reached out to city and county officials, though she rarely hears back and doesn't feel the problem is properly being addressed.
The reports are compiled by year, but details of the circumstances of each case are not put into a database that could be queried for specifics about the case. A sampling of individual reports, however, shows that many of the bites occur in the dog owner's home or property. Victims are typically a family member or guest, and a number of the reports explain that the bite happened during play. Ward said the increase in violent attacks are a public safety issue and vowed to give animal services and law enforcement all the tools they need. "I take this very seriously," he said.