FORT PIERCE, Fla. (CBS12) — Workers euthanized the pit bull mix involved in an attack that left a Humane Society volunteer dead.
Authorities on Thursday afternoon responded to a report of a dog bite at the Humane Society of St. Lucie County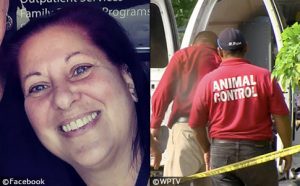 's Second Chance Shelter in Fort Pierce.
Police found Christine Liquori dead in the play area. The medical examiner said Friday she bled to death.
The Humane Society told CBS12 News there were no witnesses to the attack and it's not known how long she was in the play area before someone found her.
David Robertson, the Executive Director of the Humane Society of St. Lucie County, said the dog that killed Christine Liquori, a longtime shelter volunteer, had arrived at the society's Fort Pierce Second Chance Shelter eight days earlier and had been up for adoption for two days. On Thursday, the dog brutally attacked Liquori, killing her, in an outside play yard pen. Liquori was alone with the dog when it attacked her.