2018 Dog Bite Fatality: Back-to-Back Dogo Argentino Attacks, One Fatal, Both with Similar Circumstances and Victims
Police confirm the Huntingtown dog attack victim has died. Jenna Sutphin, 28, was savagely attacked by a Dogo argentino about 7:15 am this morning. She was airlifted to a hospital in critical condition with bite injuries to the back of her head and neck. Earlier today, it was reported that her family was "preparing for the worst." Sutphin and her fiance, Jason Hammer, who is a Prince George's County Correctional Center K-9 handler, breed and sell Dogo argentinos.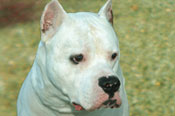 The attack unfolded in front of the couple's home, which overlooks Route 4. A driver traveling along Route 4 called 911 about 7:00 am after seeing an animal attacking something, reports WTOP. When the trouper arrived at the overgrown area near the highway, the dog was still actively attacking her. The trouper shot the dog causing it to flee. The driver who called in this attack and this trouper will forever live with the memories of seeing a gladiator dog destroying a woman.
The attacking dog, named Rocky, was the male counterpart of the couple's breeding pair. The animal had been living with the couple for about four years. At the time of the attack, her fiance Hammer was at a "training session with his new K-9 partner," reports WTOP. Hammer had recently undergone a 16-week training program with his malinois-shepherd mix. Sutphin was also employed by Prince George's County, working as an aide for the county attorney since May 2016.
Original Story –  Woman Airlifted after Dog Attack 6/21/18
Huntingtown, MD – Earlier today, a savage attack by a Dogo argentino left one if its owners — a 28-year old female — in critical condition. She was airlifted to Washington MedStar Hospital Center to undergo treatment. Initially, very few details were released about the attack. We were only able to locate the dog's owners on Facebook through a photograph. The victim was later identified as Jenna Rae Sutphin. She and her fiance breed and sell Dogo argentinos openly on Facebook.
"At about 7:15 a.m. this morning, a trooper from the Prince Frederick Barrack responded to the unit-block of Cherry Hill Road and Route 4 in Huntingtown, Maryland, after receiving an animal complaint from motorists passing by the area. Upon his arrival to the scene, the trooper found the dog actively engaged in the attack in an overgrown area near the highway, adjacent to the front yard of the victim's home. Police believe the dog is owned by the victim's fiance." – Maryland State Police news release, June 21, 2018
Police shot and killed the animal to prevent it from harming anyone else, states a press release issued by the Maryland State Police. Sources who responded to the scene said that the woman was bitten in the back of the head and neck, and that her family is preparing for the worst, reports WTOP. According to Sutphin's fiance's Facebook page, he is a law enforcement officer.
This vicious attack comes on the heels of a very similar attack in Fairfield, California one week ago.
Fairfield Dogo Argentino Breeder Attack
Last Thursday, a 29-year old female was airlifted to the Bay Area for treatment of life-threatening injuries after a Dogo argentino brutally attacked her. The attack occurred in the 1600 block of Kentucky Street. "I thought he had killed her because she had stopped screaming for a little while," neighbor and witness Yolanda Kendrick said. "I really thought he had done killed her." Police shot and killed that dog too. There were reportedly up to 20 other Dogos at the home.
Authorities confiscated all of the dogs. It is unknown what their status is at this time. There may be no additional news reports about this attack.
The victim's husband operates a Bay Area Dogo argentino kennel named, Dogos Del Gran Patron. Since the near fatal attack of his wife, he has removed the kennel's Instagram page. He also continues to publish "solid white" photos to his Facebook profile. "Solid white" is another expression for the Dogo. This may or may not be some type of social media signal to other Dogo breeders. Commenters at this rescue group report his wife lost at least one arm in the attack.
Both attacks involve the spouses of Dogo argentino breeders. Both women will suffer lifelong permanent injuries before the age of 30. The Fairfield victim has two young children. The stakes are quite high when breeding a ferocious fighting breed that is banned in multiple countries. Like the South African boerboel, Dogo argentino population numbers in the United States are low. However, these back-to-back horrific attacks show that their population numbers are rising.
As explained in the South African boerboel post — which also involved one of the breeder's own dogs attacking — the Dogo argentino is one of several "reinvented" ancient gladiator breeds used for the purposes of guarding and fighting (combat dogs). It is generally agreed upon that the Dogo is a "reconstitution" of an extinct gladiator breed created by crossing the Cordoba fighting dog with mastiffs and old white bull terriers. Learn more about Dogo argentinos at Daxton's Friends.