http://www.abcactionnews.com/news/region-polk/lakeland/deputies-shoot-kill-dog-attacking-lakeland-meter-reader
LAKELAND, Fla. Feb 13, 2017 – Polk County deputies shot and killed a dog attacking a city of Lakeland meter reader on Monday morning.
At approxima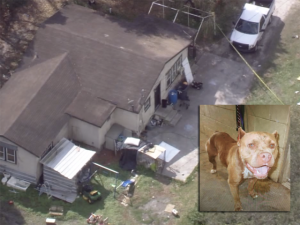 tely 11:18 a.m., Lakeland Electric employee, Linda Dionne, 59, was at a home located at 941 Fish Hatchery Road when a dog attacked her. She hit the panic button on her radio to call for help, which alerted the Lakeland Police Department communication center.
Deputies with the Polk County Sheriff's Office responded to the scene and when they arrived, the dog was still mauling Dionne. The deputy was able to get the dog off her, but it started to attack the deputy. The deputy shot and killed the dog.  At that time, another dog aggressively approached the deputies and a Lakeland Officer. Shots were fired at the dog and it retreated under the home.
"There could have been another way than to kill my children's dog," said Alex Hill, one of the dog's owners.
Hill said the family's dog, Sofia, a three-year-old rose nose pit bull, did not deserve to die.
"She's an amazing dog, she's protective of her family and her domain and I feel like she was doing what she felt was right," said Hill.