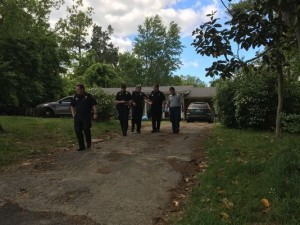 Jackson TN Madison County Sheriff's Office deputies and other first responders went to a home on Oak Grove Road, in West Madison County, after a man was bitten by a dog Thursday afternoon.
Sheriff's Office spokesman Tom Mapes said Bob Anderson, a community corrections officer, was bitten while he was at the home. Anderson is not seriously injured and was being treated Thursday afternoon at Jackson-Madison County General Hospital.
Mapes said the residents of the home will not face charges.
Eric Turner said the dog is believed to be at least part pit bull, but the exact breed was not immediately known. Madison County Fire Chief Eric Turner said Anderson was bitten on the face and legs. Mapes said the dog is still in the home.
Madison County Animal Control responded to the home to meet with the owner of the dog.