Owner of pit bulls faces 21 charges after attacks in Akron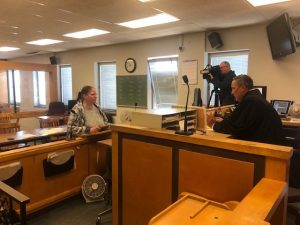 Update: Oct 11, 2019
Full Story:
Four people, including a mail carrier, were attacked by a group of dogs in two incidents in Akron on Monday morning.
Officers responded to the 800 block of Reed Avenue in East Akron for a report of three dogs biting. The dogs were gone by the time police arrived.
A 36-year-old Norton woman told police she was getting out of her van when she was attacked around 10:30 a.m. Monday. She said she was knocked to the ground, and the dogs bit her along both sides of her body, from her torso to her feet.
A 32-year-old Akron man heard the woman screaming and tried to fight off the dogs. He was bit numerous times on the left arm.
The dogs then attacked a 38-year-old Akron mail carrier on the back of his left thigh. He sprayed the dogs with pepper spray, and they retreated, running east. He had puncture marks on his pants, but he didn't believe the dogs bit his leg.
The man and woman went to Summa Akron City Hospital for treatment. Both had extensive injuries from the attack, according to a police report.
In a second incident, a 57-year-old Akron woman told police she was walking on Milton Street between Roscoe Avenue and Chittenden Street in East Akron a little over a mile away from Reed Avenue around 11 a.m. Monday when she was attacked by three dogs. She said she was bitten on the head, arms and legs.
A group of men driving by stopped to help her, first trying to grab her while they were driving to try to pull her away from the dogs. When that didn't work, they hit the dogs with sticks to get them off her.
The woman was taken to Summa Akron City Hospital. She had extensive injuries from the attack, according to a police report.
Police said the same three dogs were involved in both incidents. The dogs were eventually found in the backyard of a house in the 1000 block of Welton Avenue in East Akron and were taken by the animal warden. The animal warden couldn't be reached for comment.
Police said at the time the reports were completed, the owner of the dogs was unknown. The police reports didn't indicate the breeds of the dogs involved.