Click the link to see the full article and news video from our visit to Salt River Project in Tempe AZ!
http://www.12news.com/news/local/valley/srp-employees-go-through-aggressive-dog-biting-training/328938991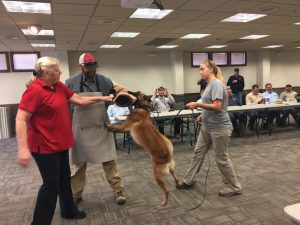 TEMPE, Ariz. – Each day, field workers with SRP face numerous dangers and obstacles including dogs protecting their territory. Tuesday the company held some classes to help employees learn what to do when faced with an aggressive dogs.
"Our main objective is to make sure that we can teach them what to do when getting into situations where they are attacked by one dog," said Mitzi Robinson with Bulli Ray Enterprises, "or by a pack of dogs."
The two-hour course included a Belgium Malinois biting workers wearing protective gear.
"If I had not had all of the years of reinforcement," said Roger Pedersen, a meter tech with SRP, "I might not have gotten out of their alive."
Three years ago Roger Petersen was visiting what appeared to be a vacant house to check on a meter in the backyard. Out of nowhere two dogs came charging at him. He had only a second to react.
"I did not want those dogs to grab me and pull me down to the ground," said Pedersen.
Pedersen knew to keep his arms in the air. With adrenaline flowing, he made it out of the gate with bites to his legs and hands.
"We have to make sure that they understand that they want to make themselves large," said Robinson. "That they tell the dog, 'No!' And they make sure the dog knows they're willing to fight and they aren't going to be pushed around."