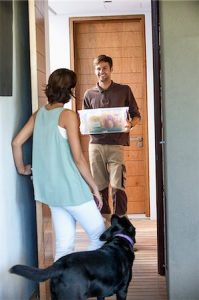 Employee Alert:
*Children are home for the holidays.
*They may release the dog while you're in the home or yard.
*Friends and family bring their dogs during the holidays.
*No one knows how these visiting dogs will react when mixed with your customers pets.
*Children come out with an aggressive dog, making the situation much worse.
*Remember to always carry something for your protection.
*Dogs bite the first thing they come to!
*Present a Dog Stick or Umbrella instead of your hand, arm, or your leg.
*Other suggestions would be a garbage lid, lawn chair, rake, or anything near by.
*Always carry something! You never know when an aggressive dog will appear!
*Be situationally aware, from the time you leave your vehicle, be aware of all dangers.
Customer Advice:
*The most dangerous time for employees, is when the family is home.
*With everyone home for the holidays your dog will be on high alert.
*The dog will gain confidence from its family members.
*Protect your assets by securing your dog in a room until the employee leaves.
*Many companies will assist employees in civil suits needing to recoup workman's comp cost for injuries.
*Replace your "Beware of Dog" sign with "Dog Is Present". Don't make it easy for lawyers to sue you. It's an admission of guilt. Your advertising your dog is aggressive, and you know the dog will bite.