http://www.3newsnow.com/news/local-news/utility-worker-attacked-by-dogs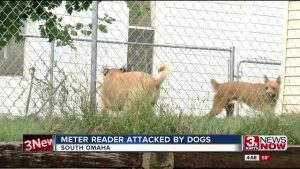 OMAHA, NEB (KMTV) – Oct 9, 2017
A utility worker attempting to read a meter at a South Omaha home walked through the gate and was bitten by two dogs.
"It's kind of scary I didn't know there were mean dogs like that right behind me."
He was taken to the hospital with injuries to his hands and legs.
Neighbors say it's shocking.
"I haven't had any issues with the dogs, none whatsoever."
Marjorie Brennan lives just two doors down and knows the owner and his two dogs.
"The dogs have never been allowed to run free, they are always fenced in."
"They are always on a leash when he walks them, and I have never heard before that they have attacked anybody."
The Nebraska Humane Society says the owner will not be cited since the sign is visible on the fence.
"He extended that fence when he figured out they could jump it, so that's been there for a very long time."
Brennan says walking past the house can be a little scary but the dogs have never been loose.
"They are big dogs, and they are noisy dogs, but I don't think anybody has ever had trouble with them."
The Nebraska Humane Society says the dogs are also up to date with licensing and vaccinations and the dogs will not be taken away from their owner.